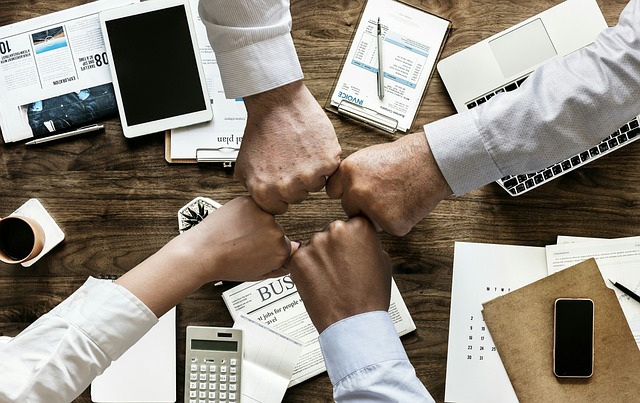 Business communication is essential for the growth of any company. Effective communication tools within a firm increase efficiency across the board, motivate employees better, and make the business productive as a whole. They also lead to more transparency with clients and suppliers, thus making it a win-win situation for everyone. In today's world of fast growing businesses you cannot lag behind in the field of business communication because that is becoming a crucial factor for determining success. It is, therefore, necessary to invest time, effort and money to seek out the best communication tools for your firm. Businesses in Atlanta need these like never before because they are a key source of competitive advantage. But how do you do pick the most essential tools for your business? We are here to help you out. We provide you with a list of 4 must-have communication tools that you certainly need to invest in.
Source: Pixabay
Business Telephone Systems
A business telephone system is the most essential tool for communication that any business needs, be it small, medium-sized or large. There are a number of telephone systems in the market such as digital systems, IP systems and hybrid solutions and you can pick whatever suits the needs of your organization. IP phone systems in Atlanta have been extremely popular among businesses and a number of IP phone contractors have risen to the need.
Paging Systems
Another instant communication tool that you should be using especially if you have factories, warehouses or even hospitals and critical care centers is the paging system. An on-site wireless paging system is reliable, fast, appropriate in places where phones are not allowed, and less intrusive unlike a mobile phone. You can also find IP paging systems that you can use in remote offices and off-site warehouses. If you have offices in Atlanta and warehouses outside the city, then you should certainly consider using a paging system.
Sound Systems
Some businesses like restaurants, bars, and retail stores usually play relevant background music to keep connected with their clients. Music helps them engage with their customers and also keeps employees motivated. Other businesses such as consultancies and audit firms may not need an extensive music system but may still require ceiling speakers in their waiting room or restrooms for emergency announcements. Whatever the background, it is always smart to invest in a high-quality sound system for your office. You do not want your clients to form a wrong picture of you because your speakers never work!
Communication Cables Systems
Communication cables are electrical cables that are used to send signals carrying information from one place to another. These cables are required to ensure smooth flow of information between your computers that contain majority of a business's communication data. It is in your interest to invest in a superior cables system and get rid of old cables when you upgrade to new devices or networks. Trusted low voltage cabling contractors in Atlanta investigate your offices to gauge your needs and ensure clean and organized wiring.
These are the four most important tools that you need to possess to ensure smooth communication among employees, with clients and suppliers, and with support staff from outside. Do invest in them if you haven't already.