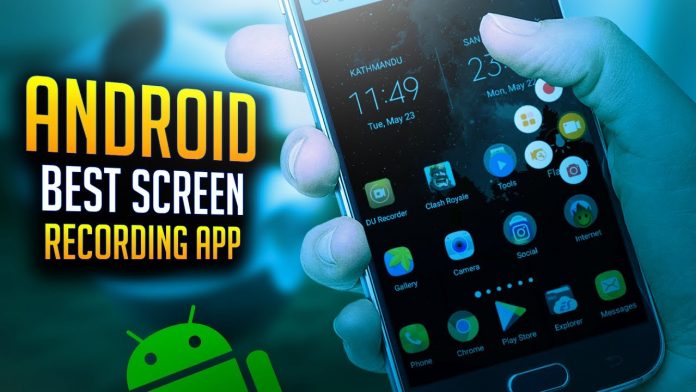 Best Screen recording Apps – Screen Recording of your actions on mobile is an impressive and valuable feature. But a few years ago, screen recording was a tricky thing. Now in Android, so many new features are added one of the best features of Android is Screen Recording. In some Android mobiles, there is an inbuilt screen recorder, and for the other Android versions, you can download third-party apps.
Here you will see the best screen recording apps for Android:-
SUPER SCREEN RECORDER:-

Super screen recorder is free for Android devices. This app not only records what's running on your screen but also records the audio. You can also mark areas on your screen while recording the screen. This recorder is also one of the best video creation tools in the market. You can record the video 280 p quality to 1080 p quality. You can also adjust the bit rate from 1 to 12 Mbps and even the FPS.
AZ SCREEN RECORDER:- AZ Screen Recorder gives you a lot of settings for recording your phone's screen. You can select the resolution from 240p to 1080p, frame rate from 24 FPS to 60 FPS, bitrate from 1 Mbps to 12 Mbps. You can also perform a time-lapse video of your screen. If you take a premium version, you can do many tasks like resume/pause of screen recording, video trimming, removal of ads, etc.
SCREEN RECORDER:- This is the best screen recording app you can use in your Android devices. I will suggest trying this screen recording app. This app is ad-free and provides you many features for free. You can record the screen with a resolution from 240p to 1080p. You can set the frame rate from 24 fps to 60 fps and bitrate from 2 Mbps to 15 Mbps. The app also offers a useful feature called "Game Launcher." By this feature, you can add the games that you have installed on your phone, and you can start them directly to record their gameplay.
ADV SCREEN RECORDER:- ADV screen recorder is similar to the AZ screen recorder. You can record your screen from 240p to 720p. You can also adjust the bitrate from 2 Mbps to 15 Mbps, and frame rate from 24 fps to 60 fps. This app also gives you a feature of the touch gesture. You can also add a countdown of 3 seconds before starting the screen recording.
Also read: Best eBook Reader Apps for Android Tablets and Phones